Design turns into an attitude
The design is more than just a matter of aesthetics – it reflects the unique character.
combines the excitement and coolness of James Bond with the timeless elegance of Yves Saint-Laurent.
—
The exquisite design of our premium catamaran is inspired by an age when such luxury and extrav­a­gance were reserved for just a few yacht owners:
Polished surfaces of gold, bronze, orange, brown, China red, cognac, beige, turquoise and blue inter­weave with handcrafted walnut, leather and metal.
—
Every­thing is perfected down to the very last detail and coordi­nated to the highest standard possible:
For instance, the spacious 80-square metre flying­bridge with a fully equipped bar and various relax zones with Moroccan style sofas and loungers that invite you to unwind and soak up the sun.
—
The clever combi­nation of colours, shapes and materials has resulted in a distinctive design that is only rivalled by the spectacular views and perspec­tives from on board the boat:
Large windows and trans­parent sliding doors simply and effort­lessly open up space, thus enhancing your experience of the vastness and richness of the sea you are floating on.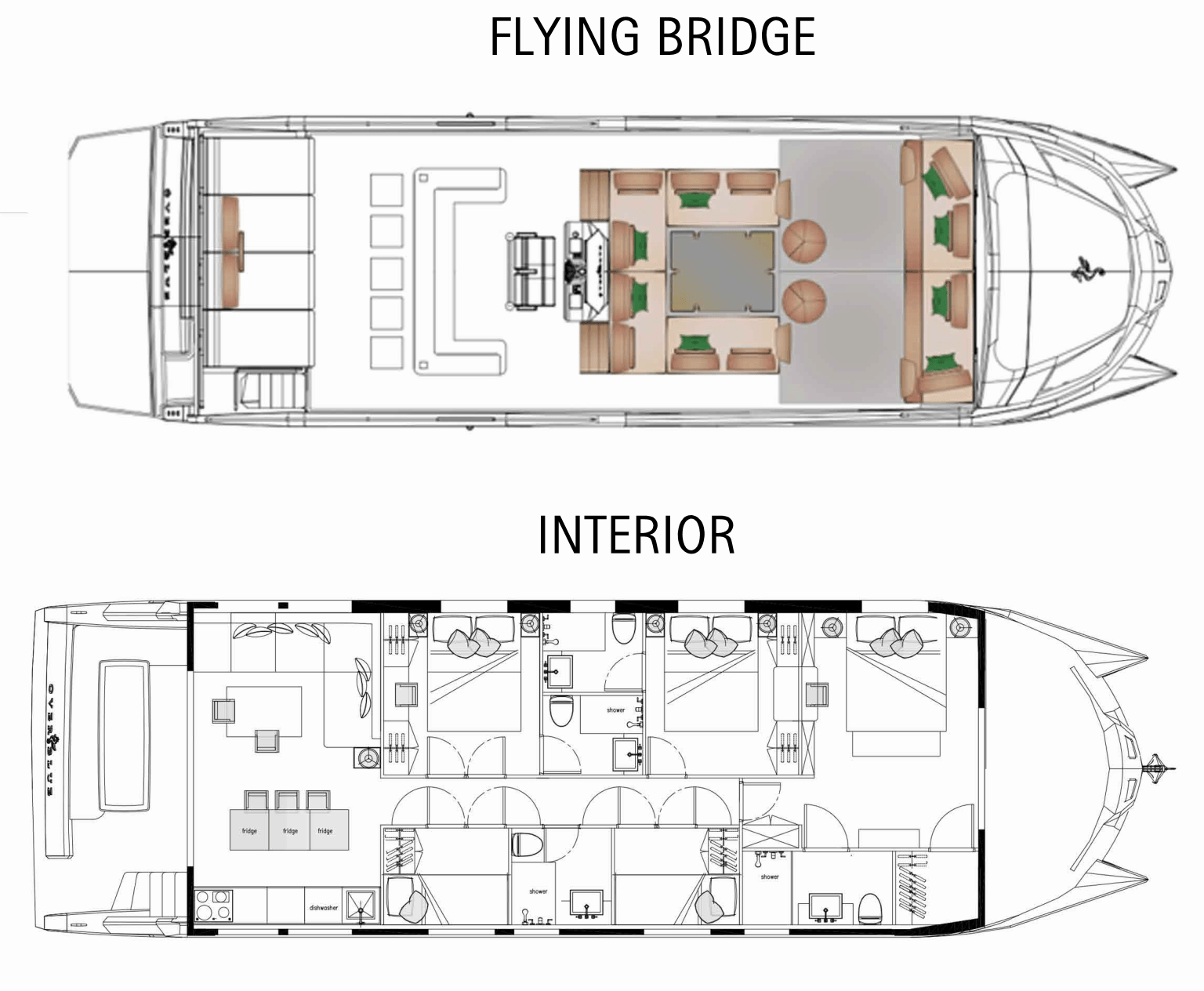 Luxury is not a question of size.
offers
160 square metres
of living space
for eight cabin guests
and two members.
But the atmos­phere and fun will be like nothing you have ever experi­enced before:
The luxurious Goldfinger feeling.
—
Experience our high-speci­fi­cation and excep­tional hotel concept together with your friends.
Book our floating James Bond residence for your own private Balearic cruise.
—
You can look forward to:
A 6-sqm single bed cabin for 2 persons with a shared bathroom
Two 10-sqm VIP cabins for 2 persons each with a double bed and bathroom
A 17-sqm master cabin for 2 persons with a double bed, bathroom and terrace with outdoor shower
You will be amazed:
Every­thing is on one level, without any steps at all – while the vastness of the sea is ingeniously captured by the luxurious design of our Floating Boutique Hotel.
—
But our capacious floating hotel has much more to offer besides:
Come and make the most of the 80-square metre flying bridge, the spacious 15-square metre open-plan kitchen, the lounge bar and the enormous sun deck.